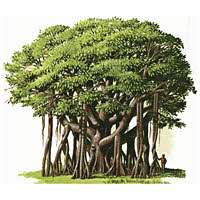 A type of tropical fig tree. The term "banyan" includes many subspecies such as Indian Banyans, Chinese Banyans, Sacred Figs, and the sinister-sounding Florida Strangler Fig!
In all cases, the banyan's distinguishing feature is its branches, which send out shoots that grow down to the soil to form secondary trunks.
Of historical interest is the fact that Siddhartha (the young Buddha) was apparently sitting under a banyan tree when he received enlightenment. The specific tree in question is known as the Bodhi tree — sharing the same root (no pun intended) as the word bodhisattva.
Link: Wikipedia: Bodhi tree