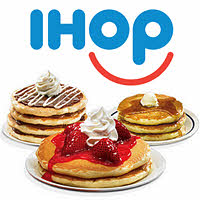 International House of Pancakes, an American chain of family restaurants.
Founded in California in 1958, IHOP currently has nearly 2,000 locations across the US and Canada, plus a handful of international locations in Central America and the Middle East.
The menu, not surprisingly, consists mainly of pancakes, but also includes waffles, omelettes and burgers.
Link: Official IHOP website