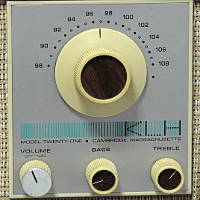 California-based manufacturer of a well-regarded series of FM radios in the 1950s and 60s.
The company name was derived from the initials of designer Henry Kloss and his business partners Malcolm Lowe and J. Anton Hoffman.
KLH are still in business today, manufacturing modern electronic audio products such as CD players and iPhone docks.
Link: Official KLH website