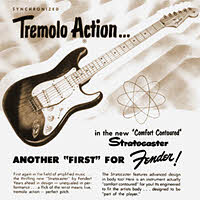 The Fender Stratocaster, arguably the world's most famous type of electric guitar.
Launched in 1954 by Californian inventor Leo Fender (following his earlier electric guitars, the Broadcaster and Telecaster), the Strat quickly became a huge success and over the years it has remained a favourite of guitar gods everywhere, from Buddy Holly to Jimi Hendrix to Eric Clapton.
The Strat is still being manufactured today, but for true guitar buffs, an original 1954 model is the one to own.
Link: Inside a '54 Strat