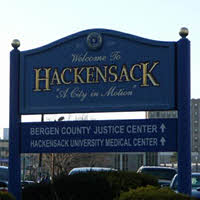 A city in New Jersey, about 10 miles north of New York City, population 42,000. (Also a small town in Minnesota.)
Used to be thought of as the "Hell's Kitchen" of New Jersey, but since gentrified. Not particularly famous for anything, but everyone knows it's there.
Also namechecked in the Billy Joel song Moving Out: "Who needs a house out in Hackensack? Is that all you get for your money?"