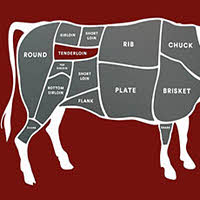 Former nickname of a neighbourhood in New York City, which was known as an entertainment and red-light district in the late 19th and early 20th centuries.
The nickname came from a former police captain who allegedly said "I've been having chuck steak ever since I've been on the force, and now I'm going to have a bit of tenderloin" — referring to the increased level of bribery he expected to receive upon being assigned to this notoriously crime-ridden district. (Beef tenderloin is the most tender cut of beef available, also known as "filet mignon", "eye fillet" or "fillet steak".)
Although the name is no longer used in New York, there is nowadays a "Tenderloin" district in San Francisco which took its name from the NYC neighbourhood.